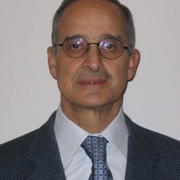 Department of Structural and Geotechnical Engineering, Sapienza University, Via Antonio Gramsci 53, 00197 Rome, Italy
Professor of Solid and Structural Mechanics, Department of Structural and Geotechnical Engineering, Sapienza University, Rome, Italy
Chairman, EUROMECH Nonlinear Oscillations Conference Committee
Italian Representative, IUTAM General Assembly
Past President, AIMETA (Italian Association of Theoretical and Applied Mechanics)
Former Head, Department of Structure, Water and Soil Engineering, University of L'Aquila
Former Chairman, Ph. D. Program Structural and Geotechnical Engineering, Sapienza
Former President, Doctoral School in Civil Engineering and Architecture, Sapienza
Former President, Committee of Italian Professors of Solid and Structural Mechanics
Member, CISM (International Centre for Mechanical Sciences) Scientific Council, Udine
Past Editor-in-Chief, Meccanica
Current/Past Associate Editor: Journal of Vibration and Control, Journal of Dynamics and Control, Prikladnaya Matematika i Mekhanika; Chaos Solitons & Fractals (P), ASME Journal of Computational and Nonlinear Dynamics (P), Mathematical Problems in Engineering (P)
Current Editorial/Advisory Board Member: Nonlinear Dynamics, International Journal of Dynamics and Control, The Open Mechanical Engineering Journal
Main International Conferences organized/chaired:
Int. Workshop Bifurcation and Chaos in Mechanical Systems, L'Aquila 1992; EUROMECH Coll. Bifurcation and Chaos in Solid and Structural Dynamics, L'Aquila 1994; IUTAM Symp. Chaotic Dynamics and Control of Systems and Processes in Mechanics, Rome 2003; EUROMECH Coll. Nonlinear Normal Modes, Dimension Reduction and Localization in Vibrating Systems, Frascati 2009; IUTAM Symp. Nonlinear Dynamics for Advanced Technologies and Engineering Design, Aberdeen 2010; 7th European Nonlinear Dynamics Conference, Rome 2011; 4th Int. Conf. Localization, Energy Transfer and Nonlinear Normal Modes in Mechanics and Physics, Haifa 2012; Symp. Dynamics, 3rd Int. Conf. Recent Advances in Nonlinear Mechanics, Harbin 2014; Symp. Nonlinear Dynamics in Engineering Systems, 24th ICTAM, Montréal 2016;
Many EUROMECH, IUTAM and other Conferences/Symposia organized
Plenary/Keynote Lecturer at about 20 International Conferences
Main honors: For 60th birthday: 11th Conf. Nonlinear Vibrations, Stability, Dynamics of Structures, Virginia Tech 2006; Nonlinear Dynamics Special Issue, 2007. For 70th birthday: International Journal of Nonlinear Mechanics Special Issue, 2017.
More than 130 papers in 48 Archival Journals + 65 Book/Edited Volume Chapters + nearly 100 Refereed Conference Proceedings Papers
Main Editorship: 3 Books, 7 Special Issues in Archival Journals
Current research interests: Nonlinear oscillations in applied mechanics and structural dynamics; Bifurcation and chaos in nonlinear dynamics; Control of oscillations and chaos; Reduced-order modelling in solid and structural mechanics; Global dynamics and integrity; Wave propagation; Smart materials; Micro/nano-mechanics;  Structural architecture; Thermomechanical problems.